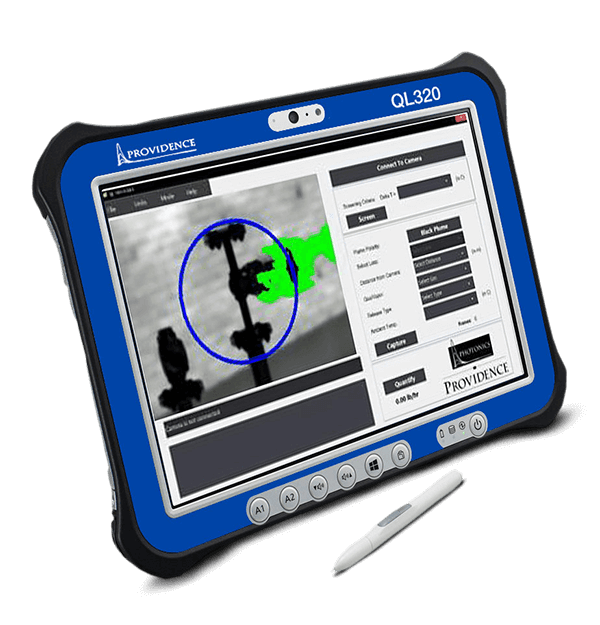 The QL320 oleh Providence Photonics adalah sistem pencitraan gas optik kuantitatif (QOGI) yang memungkinkan surveyor untuk mengukur tingkat kebocoran untuk metana dan hidrokarbon lainnya.
Ini menghilangkan kebutuhan untuk sampling sekunder dengan penganalisis uap beracun atau alat serupa. Plus, QL320 tidak memerlukan kontak dekat dengan gas untuk mengukur tingkat emisi, menjadikannya solusi yang lebih aman untuk mengukur kebocoran gas.
QUANTIFIES GAS WITH IMMEDIATE RESULTS

Dengan QL320, Anda dapat menentukan tingkat kebocoran massa (lb / h atau g / h) atau tingkat kebocoran volumetrik (cc / menit atau L / min) untuk sebagian besar gas hidrokarbon. Ukur ukuran emisi pelarian dari jarak aman, sejauh 100 kaki.

ENSURES EFFECTIVE READINGS AND REPORTS

QL320 memiliki alat bawaan yang diperlukan untuk memvalidasi survei kebocoran, ditambah alat penyaringan suhu to untuk menentukan kesesuaian kondisi latar belakang. Pelaporan di lapangan termasuk pengarsipan pengukuran, video berwarna dan data mentah untuk analisis dan pasca-pemrosesan.

DESIGNED TOUGH FOR INDUSTRIAL ENVIRONMENTS

Sistem berbasis tablet ini cukup kasar untuk digunakan di ladang gas, kilang, dan pengaturan industri lainnya. Tablet layar sentuh yang berdebu dan kedap air memberikan kontras tinggi untuk kemudahan membaca dalam kondisi di luar ruangan.

Gas Quantified with Immediate Results

QL320 portabel, mudah digunakan, dan memberikan hasil di lapangan dalam hitungan detik. Tablet ini terhubung dengan cepat ke FLIR GFx320 dan FLIR GF320 tanpa perlu modifikasi kamera. QL320 juga dapat melakukan sinkronisasi dengan berbagai optik dan rentang suhu.